over 50+ dogs looking for adoption
all will make perfect pets






UK GERMAN SHEPHERD RESCUE
Registered in England and Wales / Company Number 07664845 / Registered Charity Number 1160745

Registered address : Penfoel, (New Quay Bird Hospital) Cross Inn. Llandysul. Dyfed. SA44 6NR.

Like - Follow - Join - Tweet
The official Facebook "Group" for the UK German Shepherd Rescue (UK-GSR).

See all our dogs for adoption

Admin monitored

Everybody Welcome
The official Facebook "Page" for the UK German Shepherd Rescue (UK-GSR).

See all our dogs for adoption

Admin monitored

Everybody Welcome
Our Official Facebook "Page"
Our Official Facebook "Group"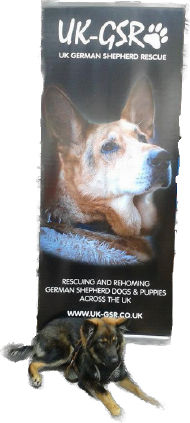 Make your donations Work Harder
Are you helping a needy dog or topping up a bank account?
It's fair to say all rescues need donations but if your like me I like to see my
donation
make a real difference to a dogs life right now. I want my
donation
to save a dog from being put to sleep, secure them from abuse and be treated for life saving medical conditions.
What I don't want is my hard earned money simply being added to the £200,00+ bank account from a good begging story. We call this accumulative fund raising and it doesn't help dogs.
We don't pick the easy dogs to rehome or avoid the sick and elderly that cost money, we rescue what is put in front of us and help those that need us most, and we do this because we are passionate about
German Shepherds
. So if you can
donate
a little something to our shoe string budget we would by very grateful or why not join us in helping save this loyal and deserving breed.


41,272 people have viewed our Facebook page this week
© UK German Shepherd Rescue 2016 All Rights Reserved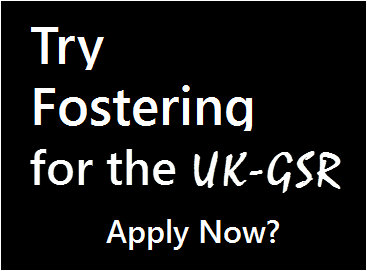 Our Adoption Form


Contact Us
With your help we can save more dogs
Our dogs rely entirely on donations, your donations help UK German Shepherd Rescue continue its work in helping the abused, neglected and unwanted German shepherd dogs & puppies in the United Kingdom.

We'll come straight to the point: You can eliminate one or more animal's pain and suffering by a simple and modest donation.

Your personal contribution will help support our work.
Donate here:
UK German Shepherd Rescue - Rescuing & Rehoming German Shepherd Dogs & Puppies throughout the UK
With an average of 60 dogs per week looking for adoption, here a great place to start looking for your next German Shepherd dog or puppy.
Fostering for the UK German Shepherd Rescue is a great way to help our dogs. You will be joining a winning team while making some new friends along the way
Our rescue can't run without our dedicated nation wide team of volunteers. See how you could join in with some of our volunteer roles.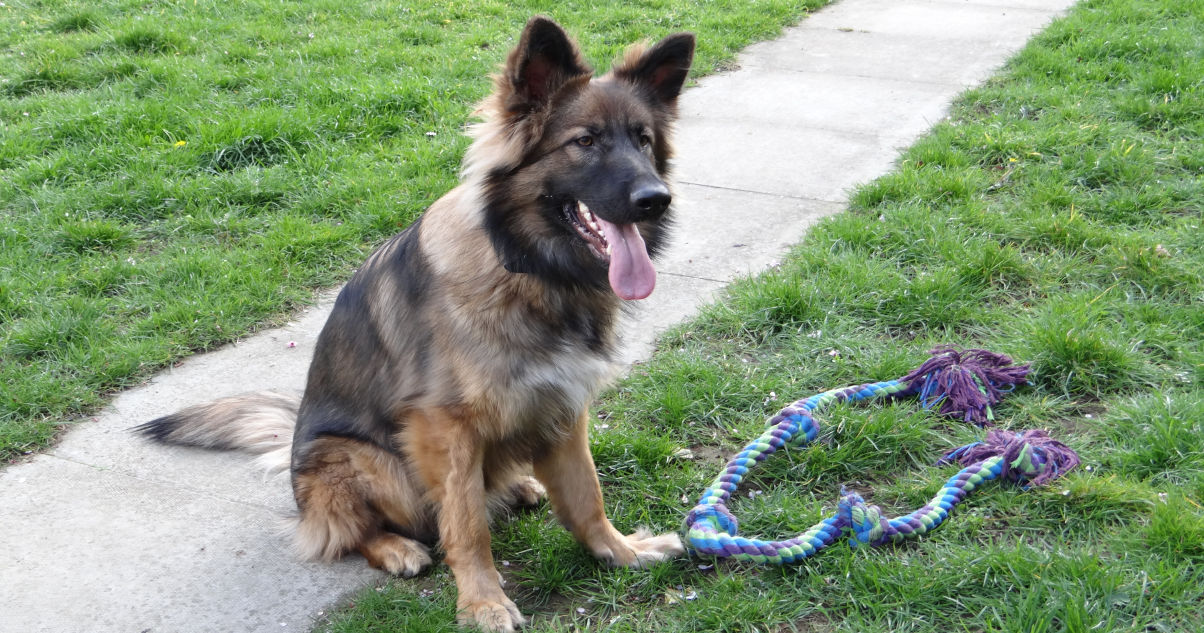 a rescue with modern ideas
We like to do things a little different here at the UK-GSR simply because we added some common sense into the way we do business. If we wanted you to jump through hoops we would have opened a circus for unwanted clowns, we certainly don't judge people simply because they don't tick all the right boxes on our adoption form, and we don't have any ego tripping staff who make you feel belittled when asking for help.

Instead have a friendly happy rehoming team who view you your family and your home on what you can offer one of our dogs.

That's three simple things that makes a world of difference.

The UK-GSR are a national volunteer based charitable
rescue covering all regions of the United Kingdom.

Welcome to the UK-GSR
By purchasing our
merchandise
you are helping our rescue raise much needed funding and promoting awareness of our rescue.
Merchandise that save lives
A range of products designed for you and your dog
There's never been a better time to get
your winter warmers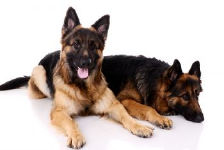 Our Dogs Tweet



5,783 people liked our page
14,527 people joined our group
Like Our Dogs
German Shepherd Owner Tragically Dies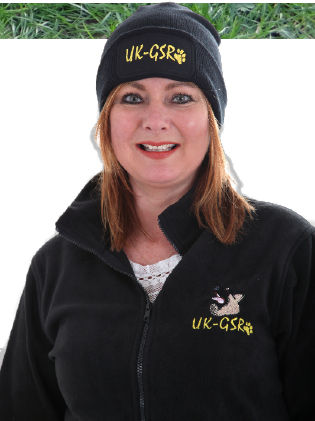 I'm stressed - get me out of here!
Rusty needs an experienced home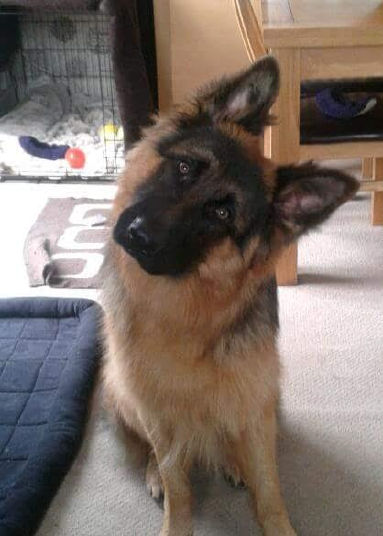 Rusty is a good example of inexperienced dog owners buying a puppy which will grow up to be more intelligence than the owners. German Shepherds are the third most intelligent breed of UK dog behind the Collie and Poodle, but unlike these dogs German Shepherds are extremely versatile and respect fair but firm leadership, respect for this breed is must, they are not just a dog but a thinking machine and take in every single thing you do and say. If you are to stupid to own an intelligent dog like the German Shepherd how can you possibly expect to train them. German Shepherds are one of the easiest dogs to teach and stupid people fail them.

Luckily Rusty is smart and when placed with an intelligent owner who understands the German Shepherd breed he will blossom into the most fantastic dog, he is currently in our kennels and needs out, he's stunning dog and without a doubt will make a very loyal and loving companion.

If you think Rusty is for you then please get in touch.
Our Adoption Form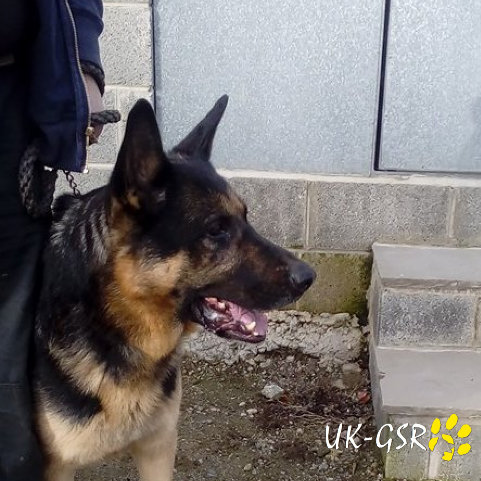 We all know loosing a German Shepherd is deeply upsetting so spare a thought for Rocky whose bonded owner tragically died leaving Rock devastated and lost.

At 8 years old he is now in our Yorkshire kennels with his world turned upside down wondering what happened to him, he has nobody to comfort him or give him support so we desperately need to get Rocky into a new loving home.

Rocky will need a cat free home but is very social and playful with other dogs having also lived with another dog.


He is friendly if a little shy meeting new people. He soon relaxes and wants some attention.
Rocky does pull on the lead, his recall is good. He is fine to be left, and travels well.

Rocky is a wonderful natured gentleman who has had his whole world turned upside down, and now needs a wonderful home to help him to move on.
Over that past 6 years we have given new hope and fresh beings to over 5500 German Shepherds here in the UK

We are the
UK German Shepherd Rescue
It's what we do !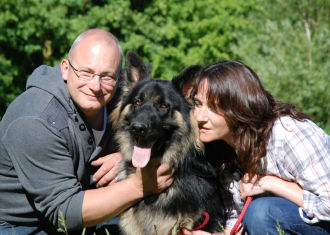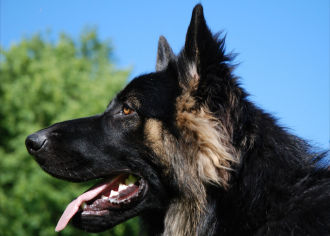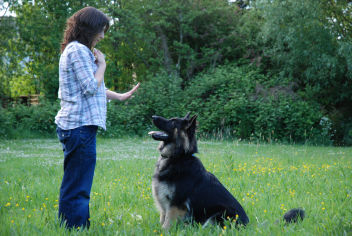 meet our dogs
foster
volunteer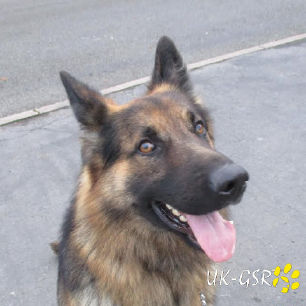 This gorgeous boy is 2 yr old Diesel, who urgently needs a new home as he is very stressed & bored & has begun pulling the fur out of his tail.
Diesel lives with 8 children ranging from 4 mths to 16 yrs, and ignores them mostly.
He has lived with another dog, without issue, and shows only curiosity to other dogs on walks, no aggression at all.
Diesel isn't' walked so lacks stimulation and exercise so has become very stressed. Diesel is a wonderful dog that in the right home with the right people will flourish.
Can you offer Diesel a home?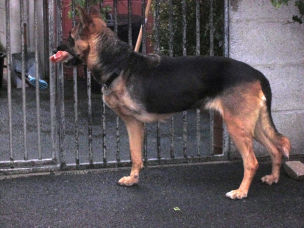 Lady doesn't'care that she only has three legs
Just arrived at our Lancashire kennels.
Lady, Romanian Refugee.
5-6 years old female GSD, Pet Passport, Vaccinated, Wormed, Flead and Microchipped.
Copes very well indeed with her issue, a really lovely natured outgoing girl.
She is fairly small for a GSD bitch, doesn't appear to have any problems what so ever.
Just waiting for that special home.